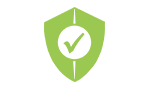 Safety
According to statistical research, busses are the safest means of transport on the road (at least in Germany). The standards for staff and their techniques are set high. With the eBus-Cluster, we have endeavored on a quest to further improve these standards while adapting to the challenges of e-mobility.
Particularly, in automotive engineering, the most tremendous demands are placed on materials: acoustic efficiency, weight, and resistances to temperature, oil, water, fuel, and fire, these aspects and more belong to the requirements profile of an eBus-Cluster design. Especially, flame retardation for fire safety has always played a key role in ensuring passenger safety, and in the future, will likely continue to come more and more into focus with increasing numbers of passenger and thus, demand for e-mobility.
On the way to e-mobility and autonomous driving are the stopping fault- and short- electrical-currents. CELLOFOAM offers the solution for high-demands: For Passenger Compartment Isolation, a fire-retardant, oil- and water-repellent polyester fleece Cello F700 FR HO is used. Further, these materials offer a high-resistance to any unfortunate splashes of water.

When combined with the highly flame-retardant Fire Protection Foil, Cello HL-Firestop R accompanied by soft foam based on melamine resin Cello HR 290 offers phenomenal sound absorption and dampening properties of which the eBus-Cluster can take advantage to reach the highest standards..
CELLOFOAM also offers innovative materials for floor insulation: white, flame-retardant nonwoven fabric made of 100% polyester. Cello 852-01 features an impressive design attributive to enormous stiffness and mechanical strength as well as high temperature resistance. Moreover, this material is well-resistant to moisture and unlike some of its competition, does not provide a breeding ground for molds and fungi.
For eBus-Cluster, CONTINENTAL supports a standardized driver's workplace wherein a new, fully-programable 12" display is integrated. This display conveys all relevant information with an added option to adjust the operating status of the bus.